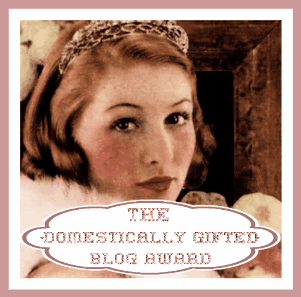 This is destined to be an abnormally long day, as I have woken up way too early this morning. I was so eager to get posting that I couldn't help myself...

I'm excited to introduce "The Domestically Gifted Blog Award".
The rules are as follows:
1. Link back to the blogger who awarded you and don't forget to thank them!
2. Pay it forward to 5 deserving bloggers for their expertise on turning their homes, furniture, decor, etc. into masterpieces.
3. Answer these 5 questions about yourself:
~If you could befriend a famous person, who would it be? and why?
~What sounds make you happy?
~What is your favorite dessert?
~Which holiday do you look forward to the most?
~What is your all-time favorite movie?
**********************
Let's get this ball rolling...
1.
The Painted Hive
- Her home is beautiful, and her tutorial on painting knobs is genius.
2.
Freckled Laundry
- Her recent post on pewter finishes is just another example of her imagination and flair for diy.
3.
House of Grace
- Her endless list of How To's can keep you occupied for hours.
5.
Sea To My Heart
- A fairly new blogger with a lot to give. Her living room redo is inspiring!
So there it is! Thank you to these lovely ladies for inspiring me every day! I hope you'll stop by and say hi to them.